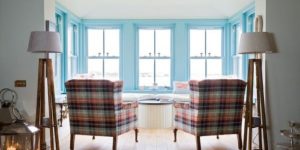 Helen Lyon specialises in bringing outstanding interiors to life.
Helen's influences began with her early years in the Welsh countryside enjoying the rich, natural countryside. Her experiences of urban living in two cities continued the process.
Life in Liverpool and London added an appreciation of metropolitan style as well as classical and modern urban lines. Together with the natural shapes of her childhood this sparked Helen's interest in design. Helen now resides in the beautiful landscape of Northern Scotland where many natural and man-made components come together in close proximity.
Within Helen is a passion to bring together modern and classical; man-made and natural, with amazingly successful results.
[blockquote author="Helen Lyon"] Interior design should have a clear purpose yet be both beautiful and functional [/blockquote]
Whether you are looking for a modern clean interiors, classic styles of a bygone era or something purely personal you can be assured that working with a professional interior designer like Helen will reveal the true character of your home.